HOW TO LOOK AFTER CURLY HAIR
HOW TO LOOK AFTER CURLY HAIR
So you've blessed by the hair gods with beautiful, bountiful curls. Or perhaps you're looking for curly hair care tips for someone else. Well today, we've got you covered because we're sharing our top tips to keep curly hair healthy, bouncy, and moisturized.
If you're wondering what hair type you have or want an in-depth explantation of how to moiturize your hair based on its porosity, check out our blog post breaking down hair types and porosity.
Shampoo and conditioner
We recommend using a sulfate-free shampoo and conditioner. Sulfates are chemicals used in cleaners to help the product clean more effectively. Sulfates can also dry out your hair, which is why we recommend avoiding them, especially if you have curly hair which by design is already more prone to dryness and breakage. A sulfate-free shampoo and conditioner will maintain the natural oils in your hair and scalp, which will in turn keep your hair moisturized. View our blog posts on how often to wash your hair and top tips for deep conditioning your hair.
The best way to seal in moisture
Ever heard of the LOC or LCO method? No? Well, it's about to change your hair care regime. L = Leave-in conditioner. C = Cream. O = Oil. Personally, we prefer to apply these items in the LCO order; this is so that the oil is the very last thing applied to the air and can seal in moisture. For ringlet-curly hair, we recommend a light oil like carrot oil and olive oil. Check out our blog post on lesser-known incredible hair oils.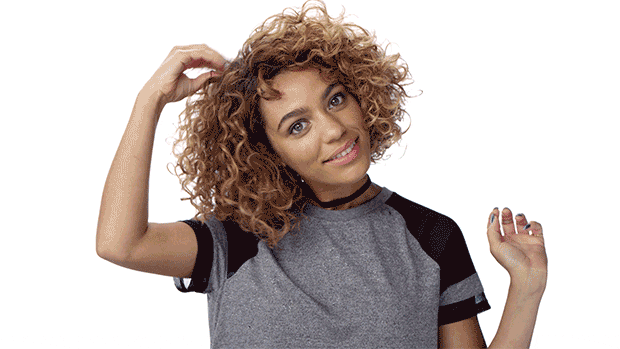 How to get your curls to POP
After shampooing and conditioning your hair, squeeze out the water with your hands, and then with your head flipped over, add a good amount of leave-in conditioner to your hair. Then scrunch in a generous amount of curl cream. To air dry: wrap your hair in a cotton t-shirt or microfiber towel and let it sit for 10 minutes before removing and letting your hair dry freely. To dry with heat: use a diffuser for 20 minutes and scrunch your hair with a towel.
When to use heat
NEVER!... No, we're kidding. Of course, sometimes you're going to want to blowdry or straighten your hair for a different look. We recommend using heat sparingly to avoid you having to follow the tips in our blog post on
repairing heat damaged hair
. Check out this
blog post for tips on how to straighten your hair safely
. If you just want to switch up your style, you might want to try a
straight wig
. It will give you a cute look wihout the heat. Take a look at our collection of
synthetic wigs
and
human hair wigs
.
That's it for today, Queens. Leave your curly hair tips down below in the comments section!
---